Though we are 6 Feet Apart - We can't wait to make you smile!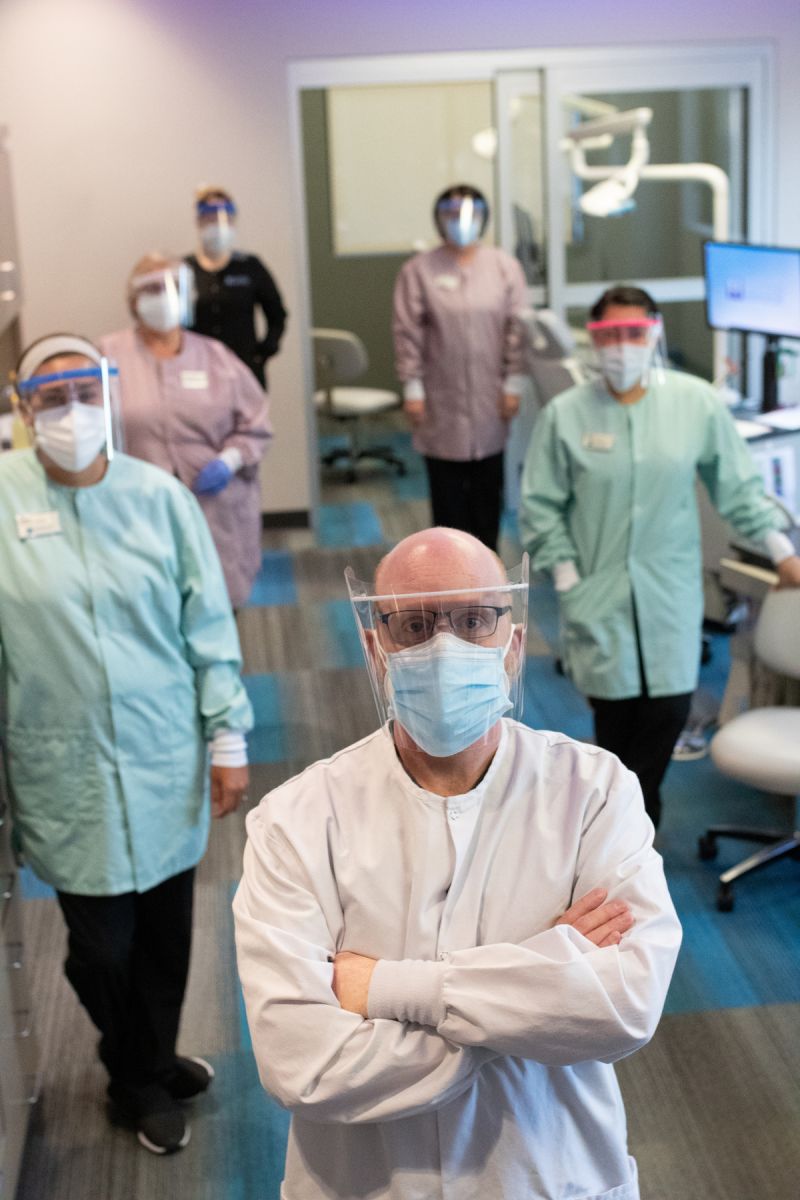 Summary of New Procedures when you visit us after May 11, 2020.
- Click on the Image for a closer look!

Letter to Our Patients Regarding Reopening!
-- Thank you for your patience. Please read carefully to understand new procedures and policies.
May 7, 2020
Dear Patients and Families,
As I hope you are now aware, we will begin seeing patients on Monday, May 11th. We are extremely excited to be able to see our patients again! I want to extend a sincere thank you for your patience and understanding while our office has been closed.
We will begin the process of rescheduling everyone May 7, 2020. We ask for your patience. We recognize there is a strong desire to return to our office and continue with treatment as normal. We will reappoint everyone, but it may not be as efficient as you have grown accustomed to at our office. We had to cancel approximately 1000 appointments over the course of the temporary closure and we are committed to taking care of each of you! Please wait for our office to contact you to reschedule your appointments. We have a very accurate and comprehensive list of every appointment canceled including the day and the time. We will proceed with rescheduling patients on a first-canceled-first-rescheduled basis, which will serve everyone with getting back on track.
Your health and safety is of the utmost importance as we return to seeing patients. In that regard, you will notice some significant changes to our normal policies and procedures in order to best care for you and keep everyone safe. We have implemented these procedures using the guidance from the Centers for Disease Control, American Dental Association, American Association of Orthodontists, NC Board of Dental Examiners and the NC Dental Society. Some of the highlights of these changes are outlined below:
Appointments/Scheduling
Our normal schedule will be limited and reduced to limit the number of people in our office at any one time and allow for appropriate time to clean and disinfect before each appointment.
As we are rescheduling the appointments that were canceled, please wait for us to contact you.
Emergency appointments will continue to be defined as pain or bleeding.
Please understand that appointments will be managed for social distancing between patients and accommodate the time necessary to clean and disinfect each operatory. In that regard, you may be offered fewer options for scheduling.
Office Visits
If the patient is experiencing a fever (above 100.4 ºF), coughing, shortness of breath or flulike symptoms, we ask that you reschedule the appointment. If the patient has been in contact with a confirmed positive COVID-19 individual within 14 days, we ask that you reschedule the appointment.
When you arrive to your appointment, call or text our office when you arrive instead of coming into the office - (704)597-5555. We ask that you give us your name and the parking space number.
Our reception room is closed and we will ask patients and family members to wait in their vehicle. Please keep this in mind as you come to the appointment.
When we are ready for your appointment, a team member will hold up your number (parking space number) at the front door indicating we can begin.
Only the patient being treated will be allowed to enter the office. The only exception for this is for young patients. If the patient must be accompanied, only one parent/caregiver will be allowed inside.
We encourage all patients and anyone entering the office to utilize a facemask or cloth covering.
Each patient will be asked a standard screening questionnaire before your appointment to assess the risk of COVID-19 transmission.
A team member will be taking patient's temperature before fully entering the office.
Upon entering the office, we will have hand sanitizer available for use.
To maintain social distancing, we will not be using all of our clinical chairs and we will limit the number of patients in the treatment area at one time.
We ask for understanding as we assess each patient's treatment needs during the visit. Individuals with multiple broken brackets may not have everything completed in order to maintain scheduling guidelines.
Upon the completion of the visit, a team member will escort the patient to their vehicle and provide any treatment updates and answer questions.
The administrative team member will appoint the patient as they leave to ensure they have another appointment scheduled. If the date and time is not satisfactory, please call to reschedule. We are trying to limit activity at our reception desk and ensure social distancing.
Office Team
Dr. Harris and each team member will have their temperature recorded at the beginning of each day. If anyone records a temperature above 100.4 ºF, they will be asked to go home.
Similarly, all team members will answer similar screening questions at the beginning and end of each day to ensure the health of the team and protection of our patients.
We will all be wearing more Personal Protective Equipment (PPE) than you have been accustomed. These include face shields, surgical masks and KN95 masks as well as external gowns. Please do not let it alarm you!
We are grateful for the trust that you have in our team to care for your orthodontic needs. We want you to know that we take your health and safety very seriously and will do what we can to keep each of you safe all while achieving a beautiful smile.
Please contact our office if you have any specific questions or concerns. We look forward to seeing you soon!

Sincerely,
Dr. Christopher T. Harris DDS, MS