Though we are 6 Feet Apart - We can't wait to make you smile!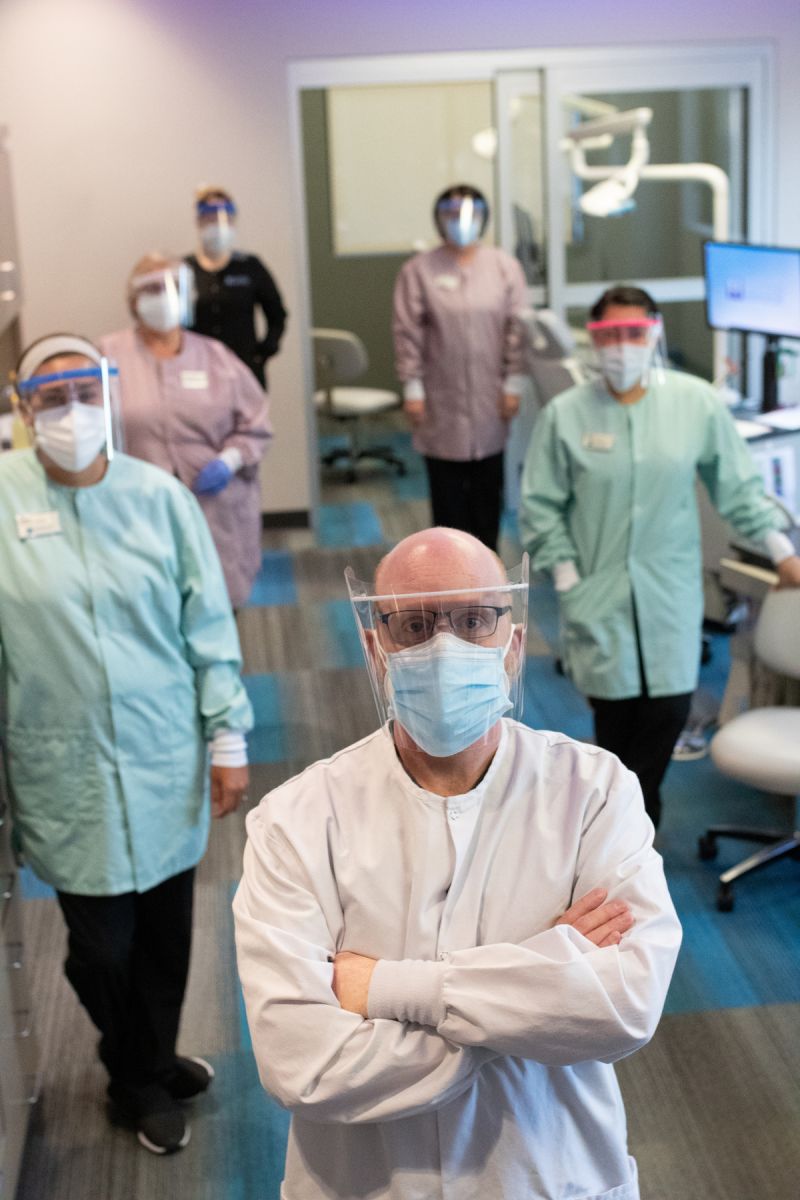 Update to Policies when you visit us after June 1, 2021.
We will continue our increased disinfection protocol. Similarly, we will continue to inquire about potential COVID-19 exposures and evidence of symptoms. We will no longer be performing temperature checks for those entering the building.
We will continue to request individuals entering our office wear a mask at this time, even if fully vaccinated. Please note, the recent CDC guidelines referencing masks for individuals fully vaccinated excluded health care settings. We will continue to monitor these recommendations and implement changes as appropriate.
We will re-open our reception area. We have reduced the capacity of our reception room and you are free to continue to wait in your vehicle if you feel more comfortable to do so. As noted above, please continue to wear masks while in the reception room.
We will again offer computer check-in. Individual patients with appointments should enter the building to check-in with our computer check-in system. We would prefer patients wait in the reception area until they are called back for their appointment rather than returning to their vehicle to wait. Please notify the front desk if you intend to wait in your vehicle.
Summary of New Procedures when you visit us after May 11, 2020.
- Click on the Image for a closer look!

Office Visits
If the patient is experiencing a fever (above 100.4 ºF), coughing, shortness of breath or flulike symptoms, we ask that you reschedule the appointment. If the patient has been in contact with a confirmed positive COVID-19 individual within 14 days, we ask that you reschedule the appointment.
We encourage all patients and anyone entering the office to utilize a facemask or cloth covering.
Each patient will be asked a standard screening questionnaire before your appointment to assess the risk of COVID-19 transmission.
Upon entering the office, we will have hand sanitizer available for use.
Office Team
Similarly, all team members will answer similar screening questions at the beginning and end of each day to ensure the health of the team and protection of our patients.
We will all be wearing more Personal Protective Equipment (PPE) than you have been accustomed. These include face shields, surgical masks and KN95 masks as well as external gowns.
We are grateful for the trust that you have in our team to care for your orthodontic needs. We want you to know that we take your health and safety very seriously and will do what we can to keep each of you safe all while achieving a beautiful smile.
Please contact our office if you have any specific questions or concerns. We look forward to seeing you soon!

Sincerely,
Dr. Christopher T. Harris DDS, MS